Officers
We have 4 officers who are responsible for running the choir.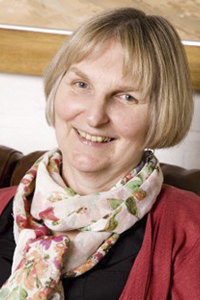 Penny Campling
Chair
When I joined the Bach Choir, shortly after Richard had started as Music Director, I was delighted to find such a diverse group of friendly singers – not to mention a skilled, inspiring and entertaining conductor! At this time, I was working hard (too hard!) as a clinical director and psychiatrist in the NHS, in mental health services that were under increasing pressure. Wednesday evenings became an eagerly anticipated oasis in the week! These days, I'm semi-retired and self-employed (although I still lecture, write about and campaign for a better resourced and better cared-for NHS) and my four children have flown the nest (just about!) So I hopefully arrive less grumpy and less in need of restoration! Taking on the role of chair has given me the chance to give something back to an institution I feel passionate about, a choir I see as welcoming and aspirational (Chair since 2017).
Nicki Little
Vice Chair
I first joined the choir around 20 years ago, just as Giles Turner was starting his time as our conductor. I immediately found the experience of rehearsing and performing with the choir challenging but also immensely rewarding. Within a couple of years I was persuaded to join the Committee and I soon became Secretary, a post which I held for nine years. Although extremely time-consuming the Secretary role enabled me to get to know all members very well and to appreciate what a wide range of interesting, sociable and committed singers they are. Singing under Giles and then Richard Laing has certainly helped me to raise my musical game and to improve my sight reading (although I'm still not anything like perfect!). It has also introduced me to a wonderfully wide range of music from pre-Bach to 21st century. Wednesday evenings are the only fixed point in my otherwise fluid life as a freelance education consultant and 'serial volunteer'! Every concert has brought its own challenges and rewards and I look forward to many more happy years with the Leicester Bach Choir.
Gail Hobbs
Secretary
I joined the Leicester Bach Choir in 2011 after attending a delightfully entertaining and musically satisfying LBC Come and Sing, working on the Puccini Gloria. On retiring from primary school teaching it was lovely to walk away from a world of little leisure time and performance targets and engage in the pleasure and excitement of real performance – of superb choral music! It has been a joy to sing again, participate in LBC concerts and make new friends. I've also returned to my first 'incarnation' as a pianist and I now work as a piano teacher and accompanist, as well as spending far too much time with three delightful grandchildren! It is a great privilege now, as Secretary, to be helping to ease this wonderful, long lived institution, which is the Leicester Bach Choir, into a thriving organisation for the future (Secretary since 2017).
David Turner
Treasurer
It seemed a good idea to let you know a bit about me, other than I am a Bass 2 who sings too loudly and has visible bruises on my right chest from Owen's elbow. Apart from GBH, the more I sing, the more I love it, so Judith and I also go on choral holidays with The Really Big Chorus, Run by Singers, and various other "Come and Sings", as they appeal to us.
I worked as a GP in Corby and, as well as being Senior Partner, ran the financial side of the business, including wages and tax for three partners and a staff of 12. After retirement, I continued working as a freelance Occupational Health Advisor and I write and still run my own publishing house, Dingley Press. Both these businesses require designing and using spreadsheets, keeping scrupulous records and not offending HMRC. I was a Leicester Magistrate for 6 years until age retired me.
We have a management committee who are responsible for running the choir in conjunction with the six other trustees comprised of the Officers and Trustees. In addition to the officers listed, Trustees are Mary Campbell (Friends Secretary), Jenny Casboult (Concert Manager) and four singers' representatives: Sam Wood, Angela Zemlak, Jacquie Burden and Chris Race. Co-opted members are Rosie Craig, Susan Heggie, and Alison Deacon.
The committee meets on a regular basis and holds an Annual General Meeting in September each year. Any member who would like an issue raised at a committee meeting should contact the Secretary in writing one week before the meeting. The Director of Music is an ex officio member.
The choir also has a distinguished President, Joanne Lunn, who comes from Leicester and has been a significant supporter of LBC.
Charitable Status
The Leicester Bach Choir is a registered charity, number: 501890.
We have a stated aim to educate the public about Choral Music.